Main — Culture — 10 interesting facts about Solomiya Krushelnytska
Culture
10 interesting facts about Solomiya Krushelnytska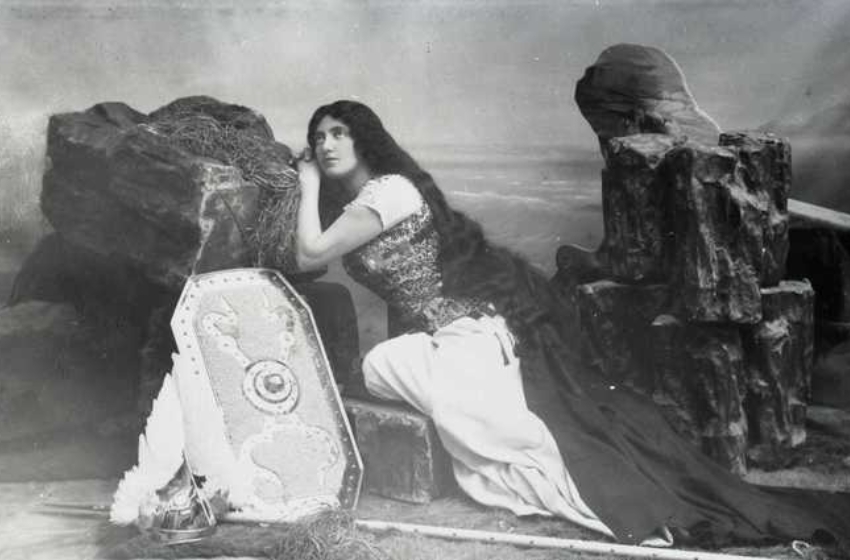 This year marks the 151st anniversary of the birth of the renowned opera singer Solomiya Krushelnytska, whose extraordinary voice was heard and beloved by millions of people from Lviv to New York. She conquered the prestigious La Scala opera stage, constantly learned and perfected her craft, and thanks to her immense popularity and talent, she was able to introduce Ukrainian song to the world.
Abroad, she always emphasized that she was Ukrainian.
In Italy and Poland, Ukrainian singer Solomiya Krushelnytska was considered their own and a national pride, but she always reiterated that she was Ukrainian. She concluded her personal concerts everywhere with Ukrainian folk songs. "Everyone knows my nationality, and I have never changed it, despite the fact that flattery and adopting the banners of the stronger sometimes bring benefits," Solomiya Krushelnytska said. Already a star of the world's greatest opera stages, she would come back every year to perform in her hometowns like Ternopil, Lviv, Berezhany, Chernivtsi, or Zbarazh.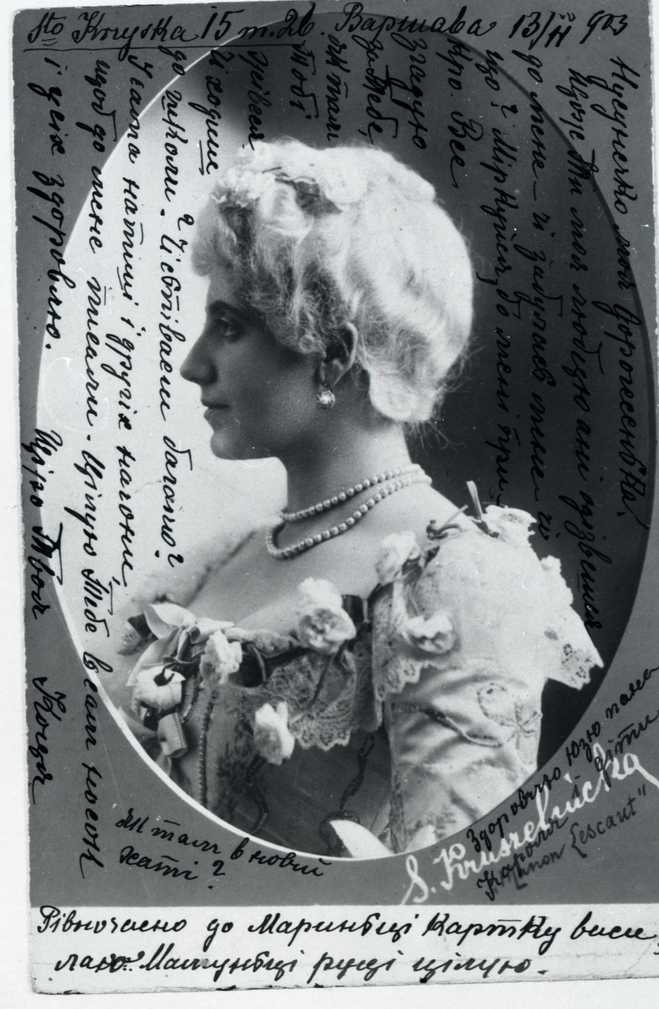 In just 5 years, she made a stunning global career.
Despite the fact that an artistic career was considered unsuitable for a priest's daughter, her father recognized Solomiya's talent and sent her to Lviv with their last savings. There, she enrolled in the conservatory, where she studied piano and vocal music. In 1893, she graduated from the conservatory with honors and made her debut on April 15 of the same year with great success at the Skarbek Theatre in Lviv as Leonora in Donizetti's opera "La favorita." She then achieved success in the role of Santuzza in "Cavalleria rusticana." A significant turning point in her life occurred when the famous Italian soprano Gemma Bellincioni toured Lviv that year. Impressed by the young artist's talent, Bellincioni recommended that she go to Italy, believing that it was the only way for Krushelnytska to achieve fame.
In the fall of 1893, Solomiya was already in Milan, where she further honed her skills under the tutelage of Professor Fausta Crespi. Just a year later, she began her performances on Italian stages. In 1895, she made her debut at the Teatro Comunale di Cremona in the role of Manon Lescaut. Within a few years, she successfully performed on the stages of renowned theaters, gaining great popularity. In her honor, white doves were released in Chile, and in Krakow, after her performance, students harnessed horses and personally drove her carriage to the hotel. In 1898, at the age of 25, she became the prima donna of the Warsaw Opera, and in just a few years, she conquered the stages of Paris and Milan's La Scala.
Contemporary of Solomiya Krushelnytska, the renowned Italian critic Rinaldo Cortopassi once wrote: "In the first decade of the 20th century, there were four male figures who dominated the world's opera stage: Caruso, Battistini, Shalyapin, and Titta Ruffo. Only one woman managed to reach their heights and stand on par with them. That woman was Solomiia Krushelnytska. However, compared to her celebrated male colleagues, she proved to be a much more multifaceted and purposeful personality. Sometimes more enigmatic, almost always more versatile, and more determined, she was a triple and singular personality – actress-singer-musician."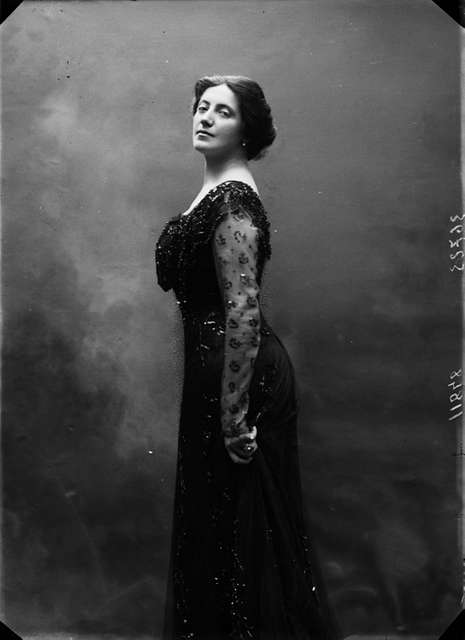 She saved Giacomo Puccini's career.
In February 1904, the already famous Italian composer Giacomo Puccini presented the premiere of "Madama Butterfly" at La Scala. It was a shocking failure—the capricious Italian audience scorned the performance and even booed it. Puccini turned to Solomiya Krushelnytska to save his opera, and she did not hesitate to take the risk, although she suggested that the maestro shorten the opening aria, which, in her opinion, tired the audience. In May, they presented the revamped premiere at the Grande Theatre in Brescia. The success was extraordinary—Puccini and Krushelnytska were called for multiple encores seven times. The singer triumphantly performed the role of the famous geisha in the world's largest theaters more than a hundred times and is still considered the best performer of the role of Cio-Cio-San.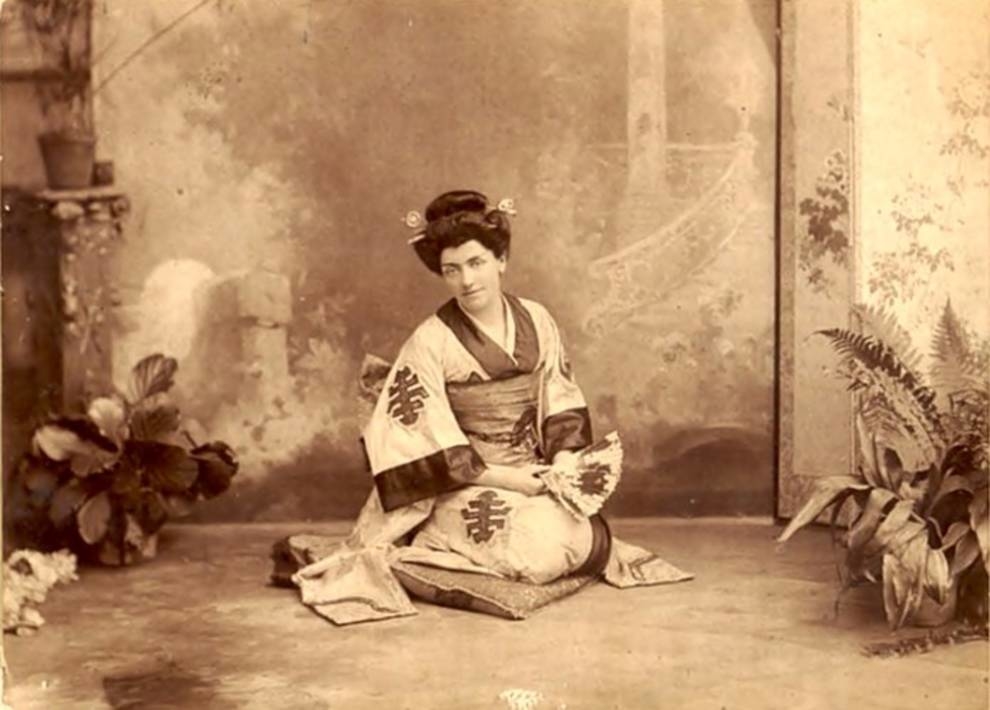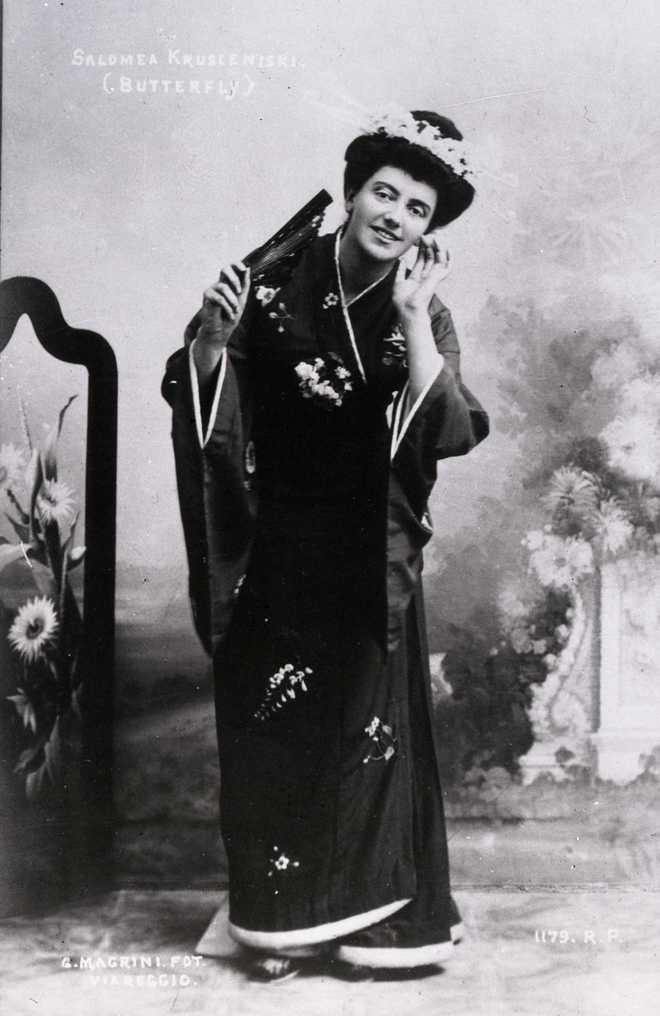 In her repertoire, she had over 60 opera roles in eight languages.
In the world press, the singer was called various names: "unforgettable Aida," "the only Gioconda in the world," "the most charming Cio-Cio-San," "unique Galka," "ideal Brünnhilde," "incomparable Salome," "exceptional Valkyrie." Conducting performances with her participation was considered an honor by Arturo Toscanini and Leopoldo Mignone, and over her creative life, she performed over 60 roles on the stages of all the major opera theaters in Europe and America.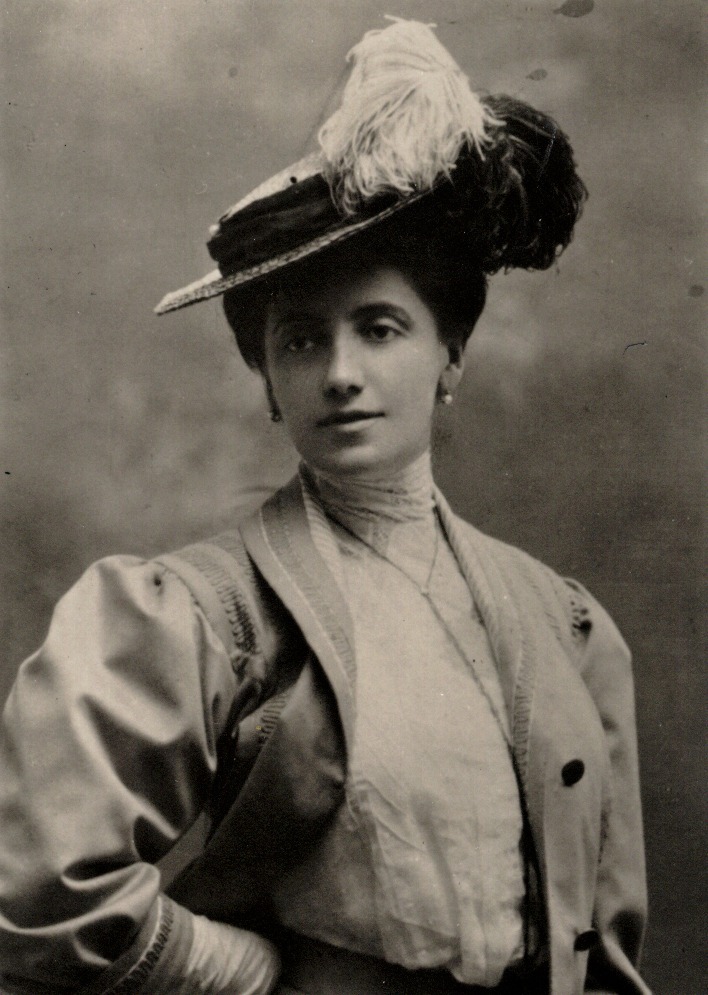 She became known as the finest interpreter of Richard Wagner's works
Due to Italian teachers, Solomiya Krushelnytska's voice gained tremendous strength and nuances, revealing her lyric-dramatic soprano range spanning three octaves (in Lviv, her voice was initially classified as mezzo-soprano, which led to a complete change in her repertoire in the future). Her voice mesmerized art enthusiasts. However, Solomiya didn't stop there and was determined to improve further. She went to Vienna to learn and mastered the German vocal school to sing in Richard Wagner's operas, which required special preparation and endurance. After her training, she successfully performed leading roles in six of the German composer's operas. In 1902, following her performance in "Lohengrin" at the Opéra Garnier, the press wrote that Krushelnytska conquered Paris in a single evening.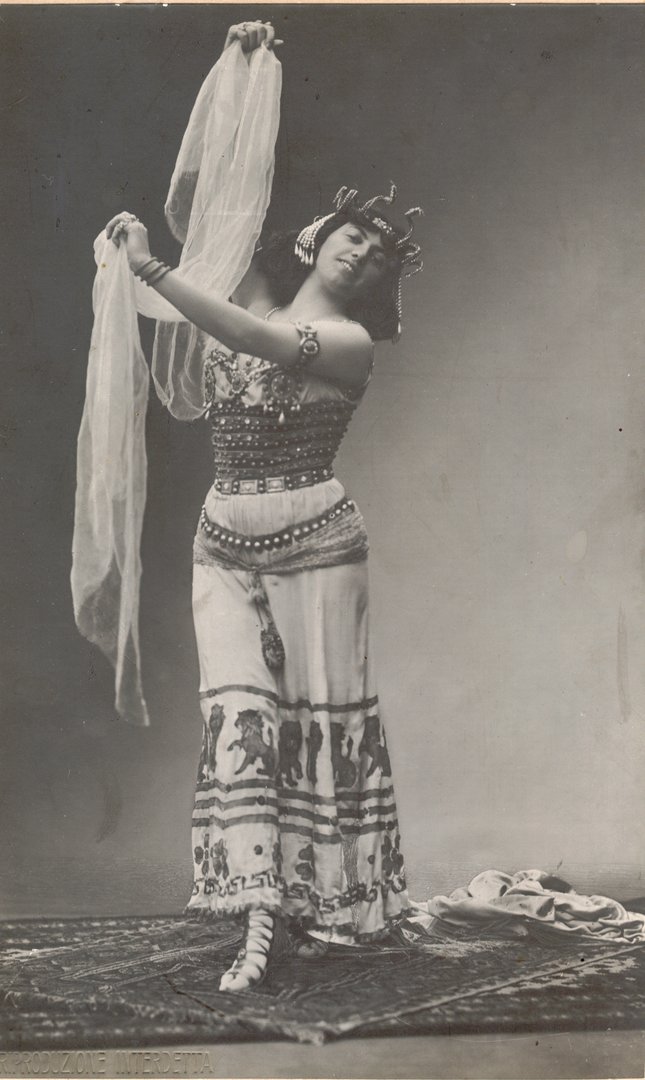 She had a great love in her life.
She met her future husband, Cesare Ricchioni, an Italian aristocrat and art connoisseur, at Puccini's house, in his hometown of Viareggio, where Ricchioni was later elected mayor twice. Their paths crossed again in a courtroom, where he was her lawyer in a case against a theater in Naples, which she missed due to the eruption of Mount Vesuvius. He won the case, and their sympathy for each other grew into love. In 1910, during her tours of South America, the couple got married in Buenos Aires. At that time, this prominent Ukrainian from Ternopil region was 38 years old and was concluding her opera career. They lived together for 26 years, owning a villa in Tuscany and traveling the world until Cesare's death. She told her sisters that Ricchioni was her friend, close companion, and the only man she ever loved. The couple did not have any children.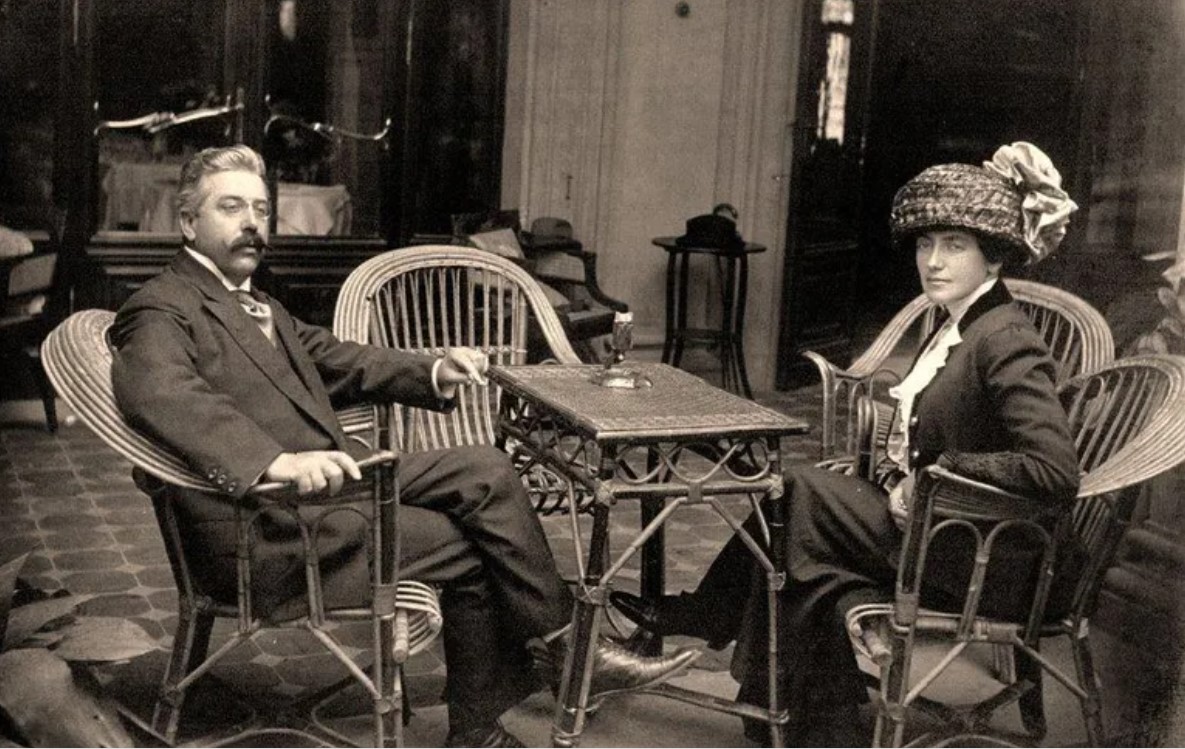 Solomiya Krushelnytska and Cesare Ricchione
She was independent.
To finance Solomiya's education, her father took a loan because he believed deeply in her talent. His daughter was always grateful for her education and put in maximum effort to justify this great trust. She dedicated her days to music and language studies and, while working, could perform up to five different roles in a week. The exceptionally beautiful and wildly popular Solomiya Krushelnytska had many suitors who offered her the world and even proposed building a theater in her honor. However, music and independence were more important to her. She didn't accept gifts from men, always conducted herself as an equal in everything, and earned all her wealth herself through hard work and talent. She bought a three-story house for her family in Lviv, where Ukrainian artists could always find shelter.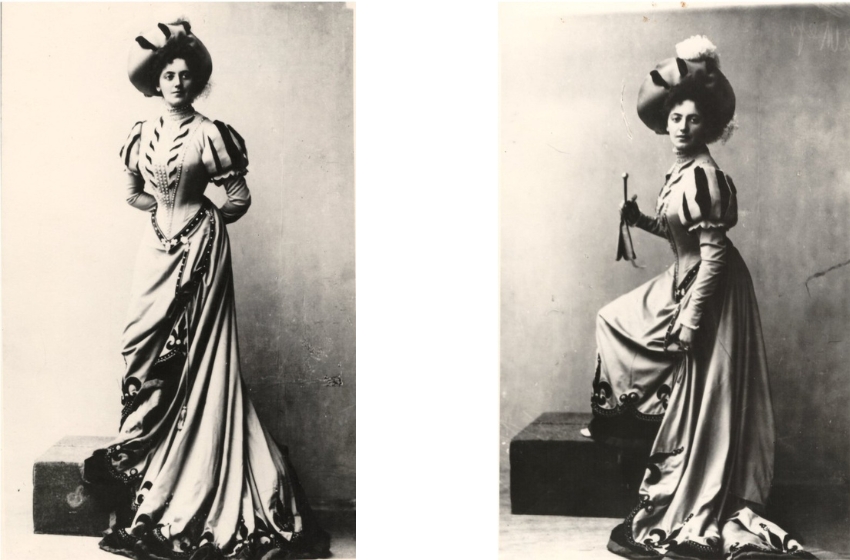 She maintained her fitness and appearance well.
Solomiya Krushelnytska was a beautiful woman who knew how to keep herself in shape: she did gymnastics and followed a healthy diet every day. She also enjoyed horseback riding, evening walks, and always personally drove her car.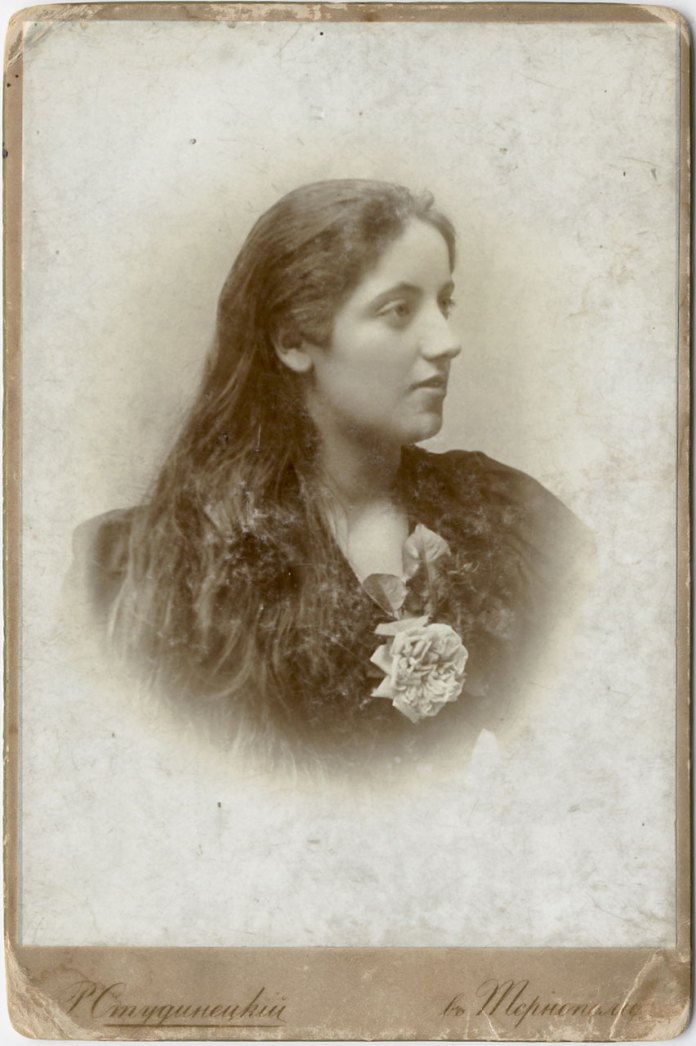 She endured two occupations.
In August 1939, after her husband's death, the singer came to visit her relatives in Galycia with two suitcases, but due to the outbreak of World War II, she never returned home to Italy. It is unknown why S. Krushelnytska did not leave for Italy during the German occupation. Her friend Negrita Cano de Piacentini invited Solomiya to Argentina, but it was Solomiya's sister Emiliya Sterniuk and her family who accepted this invitation.
During the Soviet occupation, the new authorities nationalized Krushelnytska's house, leaving her and her sister Hanna only an apartment on the top floor. During the German occupation, the singer tried to survive by giving private vocal lessons for money. In the post-war period, Krushelnytska started teaching at the Lviv Conservatory, but she was nearly fired as her higher education diploma had disappeared. She was not allowed to leave for Italy, denied Soviet citizenship and a pension until she handed over her Tuscan villa to the Soviet state, which then sold it. Her talent, voice, and life ended up behind the "Iron Curtain."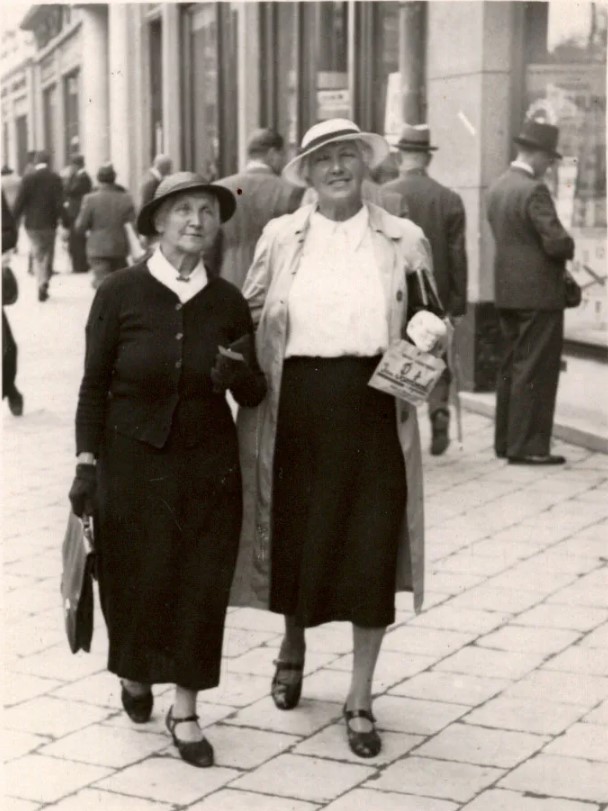 Solomiia Krushelnytska (on the right) with her sister Osiypa Bandrivska. Lviv, 1939
She sang until the age of 79.
In late 1944, the director of the Lviv Conservatory, Vasyl Barvinsky, invited Solomiya Krushelnytska to the position of professor of solo singing. Solomiya Krushelnytska also gained the right to reside in her own house. Her apartment, No. 4 on the second floor, consisted of four rooms and a kitchen. Here, Solomiya lived with her youngest sister, Anna (1887-1965). After Anna Krushelnytska's death, this house became one of the ordinary Soviet buildings with numerous communal apartments, and the only reminder of its special status was perhaps the two magnificent statues on the balcony of the second floor – Sculpture and Music.
Solomiya Krushelnytska gave her last concert in Lviv at the age of 77. With a voice that was still pure but not as strong, she sang "Rodimyi Kraiu" in the Lviv Philharmonic. But she remained connected to music until the end of her life. Even when she had throat cancer at the age of 79 (from April 8 to 16, 1951), Krushelnytska recorded four works, which were arrangements of Ukrainian songs by Andriy Shtoharenko, Stanislav Lyudkevych, Boris Lyatoshynsky, and Viktor Matyuk. Today, there are two memorial museums dedicated to Solomiya Krushelnytska in Ukraine, one in Lviv and one in the village of Bila in the Ternopil region. Streets in Kyiv, Lviv, Ternopil, Rivne, Zhytomyr, and Buchach are named in her honor. In the grand hall of La Scala, among the portraits of talented Italians Roger Leoncavallo and Enrico Caruso, there is a relief sculpture of the great Ukrainian, Solomiya Krushelnytska.